ICIT is a jack of all trades! You can also contact us in the field of online marketing. Do you want to attract more visitors? Achieve a higher conversion? Or generate more leads? Whatever online goals you have in mind. At Icit make sure you get results!
Being visible online is essential for your company. Just having a website is often not enough to distinguish your business from your competitors.  But how can you be more visible online? Online marketing offers many ways to grow. At ICIT we focus on search engine marketing, online advertising and social media marketing. In addition, we are highly skilled in website personalization and marketing automation. Both offer many ways to personalize your website. Take a look!
Not sure what your company needs in order to grow online? Let us know! We are happy to look at the possibilities with you. Together we draw up the best suitable online marketing strategy for you. Start growing too!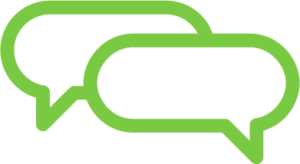 Social media channels are perfect for a company to get in touch with the customer. With this we create interaction with your target group. And increase customer loyalty and brand awareness.
We love to hear from you!
Curious about what ICIT can do for your company? We love to hear from you! Contact us and let us know your challenge.